Summer Externship Program

Co-sponsored by the American Academy of Family Physicians Foundation & the Family Health Foundation of Missouri. The AAFP and FHFM have partnered to offer four-week summer externships to Missouri medical students interested in pursuing a career in Family Medicine. Participants will receive a $1,000 stipend.​
Deadline to apply: March 13, 2023
Every attempt will be made to accommodate the preferred externship site of the recipient. Learn more about each externship location below, and read testimonials from participants in the program.
Recipient Requirements:
Externship Program Descriptions
Capital Region Medical Center Family Medicine Residency

Address: 1125 Madison Street, Jefferson City, MO 65101
Phone: (573) 632-5013
Website: www.crmc.org/employment/family-medicine-residency/
Daniel Gibson, DO, Program Director
Morgan Schiermeier, MD, Assistant Program Director
Charlene Dowell, Family Medicine Residency Coordinator
Mercy Family Medicine Residency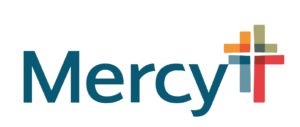 Mercy FMR invites medical students who are interested in receiving a comprehensive education in Family Medicine to visit our program. The student will have the opportunity to see all of what encompasses Family Medicine at Mercy. They will be assigned to work in our Family Practice Center with one faculty member, who will serve as the primary advisor throughout the rotation, and in addition, will have the opportunity to work with the 2nd and 3rd year Family Medicine residents in the FPC.  Also, if interested, the student can work on our inpatient service, participating as an active team member in the discussion of a broad range of patients admitted to Mercy Hospital – St. Louis for acute medical, surgical, and obstetrical/post-partum care from initial assessment until discharge.  The student's experience will be enhanced by weekly grand rounds in addition to weekly block family medicine didactics that include discussions in obstetrics, behavioral science, practice management, and a variety of other topics.
Mercy Hospital – St. Louis Address: 12680 Olive Blvd., Suite 300,  St. Louis, MO 63141
Phone: (314) 251-8950
Fax: (314) 251-8889
Website: https://www.mercy.net/healthcare-education/graduate/st-louis/family-medicine/
Sarah Cole, DO, Program Director
Breanna Shelton, Program Coordinator
Research Family Medicine Residency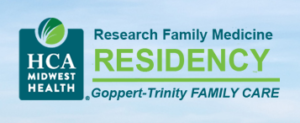 Research FMR in Kansas City is eager to host a Summer Externship student. Our residency program accepts 12 residents per year for each of 3 years of residency and provides a strong base for the transition from student to family physician. This same curriculum allows us to provide an outstanding experience for the Summer Externship program. Options to choose from include: High quality, high volume adult inpatient care-We offer a busy inpatient service comprised of two teams of approximately 18 patients each. Admitting diagnoses range from simple pneumonia to complex multi-system organ failure and sepsis in the ICU where we manage our own patients. Family-centered maternity care – Our doctors deliver about 400 babies a year and provide prenatal care in our main family medicine clinic as well as 3 OB outreach clinics in the KC metropolitan area. Research Medical Center has a highly up-to-date obstetrical unit, newly renovated in July 2008. Our residents triage and deliver with both family physicians and obstetricians to get the most enriched experience. Students can choose a basic exposure to maternity care or a more intense experience more like that of the residents on our popular OB Track. Exciting outpatient clinic experience – Our student externs work side-by-side with residents and faculty in our outpatient family medicine center, Goppert-Trinity Family Care. We see a variety of patients of all ages, including the newborn, well-child checks, preventive care, chronic disease management, and prenatal care. Learn about the Patient-Centered Medical Home (PCMH) – Our clinic is a Level 3 NCQA Accredited Patient-Centered Medical Home (PCMH). Students can participate in special PCMH projects such as "Case Management from Hospital to Home." Housing is available for a modest fee on campus. All food is provided at no cost to the extern. Spend an interactive, customized Summer Externship with Research Family Medicine!
Goppert -Trinity Family Care Address: 6675 Holmes, Suite 450, Kansas City, MO 64131
Phone: (816) 995-3070 or (816) 276-7650
Fax: (816) 276-7090
Website: researchresidency.com/
Kavitha Arabindoo, MD, Interim Program Director
Jaina Billups, Program Manager
Saint Louis University Family Medicine Residency

Saint Louis University FMR invites you to spend 4 weeks with us in full-spectrum family medicine with an underserved population in the city of St Louis. This is an ambulatory and inpatient experience. You will see patients at Family Care Health Center, a community health center in the Carondelet neighborhood, with our faculty and residents. Join in weekly conferences. Learn about inpatient care on our Family Medicine Inpatient Service. Experience Labor and Delivery with our family physician faculty on OB call. This experience is designed for a student who is interested in all aspects of community-oriented urban primary care.
SSM St. Mary's Health Center Address: 6420 Clayton Road, Room 2234, St. Louis, MO  63117
Phone: (314) 951-7240
Fax: (314) 951-7234
Website: familymedicine.slu.edu/residency
Elizabeth Keegan-Garrett, MD, Program Director
Charron Ford, M.S., Residency Coordinator 
University of Missouri Columbia Family Medicine Residency

MU FMR offers a four-week externship for a medical student interested in caring for the uninsured and underinsured. Clinical experiences will be focused at the Family Health Center, which is mid-Missouri's Federally Qualified Health Center and one of MU's resident clinic sites. This clinic sees a high volume of ethnically diverse, low-income expectant mothers and chronically ill patients.  The student will work with faculty and residents at this clinic, and if interested he/she may work with the clinic's social workers and nurses on a variety of community health outreach efforts.  MU is also involved in an exciting student-led initiative that established a free clinic in Columbia in October 2008, and the summer extern can devote time to furthering this project as well.  Inpatient opportunities with MU family physicians are also available if the student is interested in hospital care.
Department of Family and Community Medicine Address: One Hospital Dr, DCO32.00, Columbia, MO  65212
Phone: (573) 882-6061 or (800) 998-4002
Fax: (573) 884-4122
Website: medicine.missouri.edu/departments/family-and-community-medicine/residency
Erika Ringdahl, MD, Program Director
Gina Silvey, C-TAGME, Medical Education Manager
University of Missouri Kansas City Family Medicine Residency

Students at UMKC FMR will work in a dually accredited family medicine residency program with traditional and AOA residencies. Postgraduate offerings include Geriatric Medicine, Sports Medicine, and Surgical OB fellowships. Sample curriculum for the elective student is one week in each of the following: OB in our new Family Birthplace, Inpatient, Geriatrics, and outpatient family medicine clinic. Students are given responsibility under resident and faculty supervision and most teaching is one on one. They will also have some unique learning opportunities in the business and leadership aspects of the delivery of healthcare. For housing needs, contact Kimberly Sixkiller at: kimberly.sixkiller@tmcmed.org. Students are vital team members and are able to attend daily noon conferences, morning rounds, and other didactic lectures. Students will meet with the program director to discuss clinical work and family medicine concepts. Goals and objectives emphasize preventative and community medicine. Overnight call is available if desired. This elective is primarily for those interested in family medicine. Depending on specific interests, rotation experience may be customized. Learning Objectives: 1. Assemble the skills and values needed for the healthcare of people of all ages, their families, and communities. 2. Synthesize the dynamics of an integrated health system and the overall well-being of patient care. 3. Examine community strategies to help the underserved population.  4. Utilize hands-on training with obstetrics and neonates. 5. Develop and promote interest in Family Medicine.
University Health Address: 2301 Holmes Street, Kansas City, MO 64108
Phone: (816) 404-7751
Email: FamilyMed@umkc.edu
Website: med.umkc.edu/fm
Beth Rosemergey, DO, Program Director
Octavia Jones, Education Manager
Terry Winbush, Residency Program Coordinator
University of Missouri - Bothwell Family Medicine Residency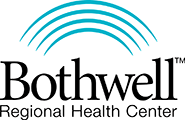 The Bothwell-University of Missouri Rural Family Medicine Residency trains service-oriented, evidence-based family medicine physicians to provide outstanding care and leadership for rural patients and their communities.
Bothwell Regional Health Center:601 East 14th Street, Sedalia, MO 65301
Phone: (660) 829-6652
Fax: (660) 827-7676
Website: www.fcm.missouri.edu
Misty Todd, MD, Associate Program Director
Ellie Euer, Program Coordinator